Summer Retreat at Cà Le Suore
If you love the peace of the countryside, enjoy living in strict connection with the nature, all the while discovering the traditional method of Ashtanga Vinyasa Yoga.
Tuition fee includes accomodation, vegetable food and yoga.
Please register in advance and pay a deposit of euros 100,00 and note that it is non-refundable. Remember to bring a yoga mat.
Cà le Suore is a small rural village at the centre of a 70 hectare farm located in the foothills of the Pesaro Apennines.
The most interesting nearby cities are Urbino (Km 23), Gubbio (Km 30), Assisi (Km 60), Fano (Km 40), but all around there are many charming little towns.

Dates
2020 June 26 - July 04 - Meeting the June 25


Price
From June 26 - To July 04
The price for one week is Euro 750 - 9 Days Euro 950, tuition fee includes accomodation, vegetable food and yoga.
To registar please pay a deposit of euros 100,00 and note that it is non-refundable. Remember to bring a yoga mat.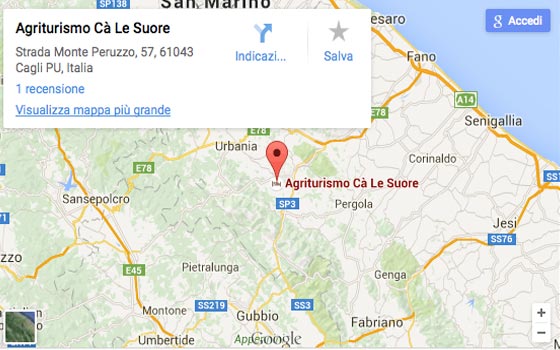 How to find "Cà Le Suore" from the Adriatic Highway A14:
take the Fano exit and continue in the direction of Roma till Acqualagna, exit from the higway following the directions for Piobbico/Apecchio and continue for about 4 Km. To Pole, here turn left between 2 houses (there is an fuel station about 100 mt. Before) and follow the signs for Cà Le Suore.

How to find "Cà Le Suore" from Rome by highway:
take Roma-Firenze highway and exit at Orte. Continue on Perugia-Cesena state highway and exit at Umbertide-Gubbio. Continue to Fano and after Cagli exit at Acqualagna and continue using above directions.

---